As more states in America legalize marijuana and remove older restrictions, an increasing number of people are becoming interested in trying it, whether for medical reasons, or just curiosity. Marijuana is largely consumed for leisure, like alcohol, but it's also used to treat various health issues these days.
For many newcomers to marijuana, buying products for the first time can be overwhelming. You will be met with an unfamiliar assortment of terms, products, and brands that you don't understand. It can be helpful to research the world of the marijuana industry so you have a better understanding of how it works, along with how to buy the product safely.
Below is a quick shopping guide for buying marijuana that will provide you with all of the basics that you should know before you purchase anything. Read on to learn more!
What to Buy
You may want to use marijuana for either recreational or medical reasons, or a mix of both. You may also have your own preferences for how you want to consume marijuana or products that use it. First, there are different ways to consume marijuana and different types of marijuana products that contain it. How you consume it, and what kind of products you consume, will offer different experiences and benefits. Here are the more common types of marijuana products:
Flower, for smoking
Concentrate, for vaping
Edibles, for eating
Tinctures, for taking as drops
Topicals, for rubbing on your skin
Some of this will come down to personal preference, but it also can be an issue of how you get the most out of it. If you want its medical benefits, you may find that smoking or vaping it offers the most potent results.
You may also find the act smoking unpleasant, or you can't smoke it due to issues you have in your throat or lungs. In that case, you may find using edibles a much better option. You may also just want marijuana for leisure and find the act of smoking to be relaxing, in which case you can try vaping, as it is a safer option. The variation of products helps you find something that suits your tastes.
What Are Marijuana Strains?
The other big thing you need to know is that you should pay careful attention to the different strains of marijuana plants that the product uses. A strain is basically a distinct family of the marijuana plant that has been found to have slightly different effects than others. When you shop around for marijuana, most dispensaries or retailers will show three strains or categories:
Indica — has a more potent relaxing effect
Sativa — has a more energizing effect
Hybrid — mixes indica and sativa strains together for a combination effect
However, lab tests have found these are generalizations — not universal truths. You can find marijuana from the indica strain that makes you feel more energized, or sativa strains that make you feel more relaxed.
You may also find some places that sell marijuana may use different names for strain categories to specifically tell you the effects they will have. That can be more clear for people who are looking to use marijuana for specific reasons — such as for pain, sleep, relaxation, and so on. Some places may also come up with fun names that don't describe much, but if you ask the seller you can find out how it works. The link for the different marijuana strains above has a good list of the more common names, and what their effects are.
If you are taking it for medical reasons, you will want to choose a strain that helps with your specific medical issue. If you are taking it recreationally, you may want to choose a strain that makes you more high, or more relaxed. There can be a lot of variation for this, so just make sure you research a product's strain and ask questions to clarify its effects so you are getting what you want.
Where to Buy Marijuana Products
Buying marijuana can be a challenge, because there are a lot of differences about the legal status of marijuana on a state-by-state basis. In some states, ordering marijuana online is allowed and by far the most convenient way to do it — especially with the COVID-19 pandemic not slowing down. You can order from a dispensary website, or any other business that can legally sell marijuana products, and either have them shipped directly to your house or to arrange for curbside pickup.
In other states, you may be limited to only buying marijuana in a legal dispensary, and you have to physically go into the store to buy marijuana. This is likely tied to the laws based around requiring you to get and show a legal document you get through a doctor saying you are allowed to use marijuana. These are stores that have received a special license to sell it, and have to jump through several legal hoops to do it.
How to Buy Marijuana Safely
Wherever you buy marijuana, you should always do your research to make sure you are getting something that is safe and good quality. This is actually easier if you are in a state with greater restrictions on the businesses that sell it. They are required to use certified growers, and the product has to meet certain standards.
Other states with less restrictions can be more hectic. You want to avoid low quality sellers and products. This is partly because cannabis plants are known to be much more absorbent for chemicals in the soil than other plants. It is easier for it to become contaminated by chemicals that can make you feel sick, or worse. Always look or ask for proof of lab certification that the marijuana is clean and safe.
With this information, you will have the basics you need to know to shop around for marijuana. Other information can be helpful, but not necessary — it all comes down to your personal tastes. You can try different strains, products, and growers to find the marijuana products you like the most.
JUST GETTING STARTED IN WEED, READ MORE…
HOW DO YOU BUY WEED EXACTLY, I HAVE NO IDEA, READ THIS!
OR..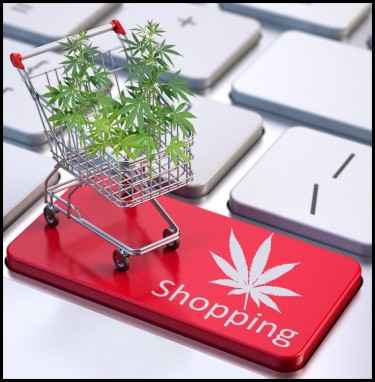 SHOULD YOU SHOP ONLINE FOR MARIJUANA OR BUY IT LOCAL?